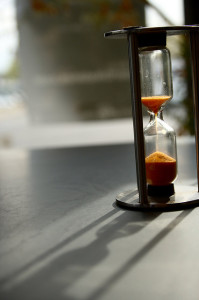 Time is money – When you owe a debt and you get sued, a fast timer starts that you can't afford to ignore. If you want to keep control over your own money, you need to act fast. That means you can't afford to sit on your hands.
Here are the realities: #1: Most credit-card companies don't sue very quickly. So if you're being sued, it means you're in pretty serious financial trouble. Most bad debts don't stay with the credit-card companies, but are sold off to collection agencies at rock-bottom prices. The collection agency then hounds you to pay up. Since they paid so little for your debt, any money they squeeze out of you is pure profit to them.
Here's how it works: Whether or not the collection agency sues you depends on its business model – Some collection agencies file lawsuits all the time and some don't. One collection agency might try to shake you down for money, but if you don't pay up, they'll sell off your debt to another collection agency, which might turn around and sue you in court. Most of these debt-collection lawsuits are pretty profitable for the debt collector because most people don't show up in court. That's how they take your money – when you don't show up in court, the debt collector gets a judgment against you. After the debt collector gets a judgment against you, the court will give them permission to garnish your wages or to take money straight out of your bank account.
#2: When you get sued by a collection agency, give them a run for their money. If you up the ante by making them do work instead of just getting a quick judgment, there's a good chance that you'll come out ahead. Collection agencies are not stupid. They know that their profit lies in doing as little work as possible for as much money as possible – your money. A collection agency that makes too many wrong bets will soon be out of business. The ones that are in business know what they're doing. The collector counts on you to put your head in the sand and to ignore the lawsuit so that it can get a quick judgment against you. You can beat them at their game by protecting yourself BEFORE they get their judgment. Don't let the debt collector catch you with your pants down!
#3: Once you receive a lawsuit, you don't have much time! If you don't respond in time, you lose. I know what you're saying – "I owe the debt! How could I win?" Even if you end up paying something on the debt, the difference between NOT responding to the lawsuit and responding means the difference between NOT controlling your own money (if you don't respond) and keeping control over your own money (if you do respond). Do you ant the debt collector dipping their hand into your checking account or not?  If not, give me a call!  I can help you keep control over your own money by defending the lawsuit and/or negotiating a beneficial settlement for you.
Call attorney Jennifer Weil now at (201) 676-0722.